Almost three hundred community leaders gathered in Lowndes County, Alabama on September 22, 2012, and we are regenerating the Southern Freedom Movement.
Large delegations of young people from every state in the South, migrants living in Alabama and beyond, Black organizers and leaders from 10 states, and LGBTQ organizers from five states came together to declare:
We All Count – We Will Not be Erased.
The Southern Movement Assembly produced a shared, regional plan of action – The People's First 100 Days. Leading up to November 6, over 25 Action Sites throughout the region will continue to register voters, engage communities, and defend the right to vote. While false policy solutions are debated in DC, we will kick off our 100 Days with a call to action on November 7 – N7 – where we will take the streets and commit to real solutions for our communities – by the people and for the people.
Why did we camp?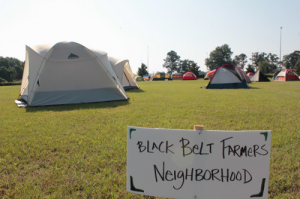 In 1965, Tent City in Lowndes County marked the height of the voting rights movement.  Black residents built it after being forced out of their homes for registering to vote. SNCC elders informed the crowd on Friday night that people fought back, launched a successful independent political party, and ran candidates for local positions. Tent City was not a tactical retreat; it represented resilience, community governance, resistance, and offensive strikes. At a time when the right wing hate machine divides our communities, we camped in solidarity with our history. We experienced the vitality of meeting in our own space, resourcing our own travel, and gathering on historic grounds to regenerate the power of Southern Freedom Movement.
What's next?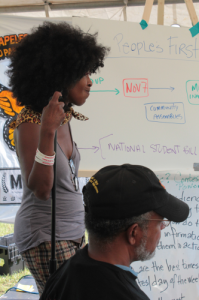 While the two parties market their divisive messages to narrow constituencies in 7 to 8 so-called battleground states, 25 grassroots Southern delegations from Louisiana to Appalachia declared that our voices matter, despite voting restrictions like Voter ID laws and redistricting. We stood together under the banner of Fannie Lou Hamer's call, "Nobody's Free till Everyone's Free."
Though the South has always played a major role in fighting for freedom, democracy, and voters rights, the region is often left for "red" by most of the U.S. during election years. If even a fraction of the 30 million voters who are being discouraged or prevented from voting were able to vote this year, the misleading blue-red electoral map would look very different
The Southern Movement Assembly represented a turning point. Despite our exclusion from the national debate, over 40 organizations representing 25,000 people most affected by poverty, racism, the lack of healthcare, crumbling education systems, and rising violence came together and found unity in our multiple struggles.
It was never just about a vote, and the Southern movement will amplify our vision for a just world in the People's First 100 Days.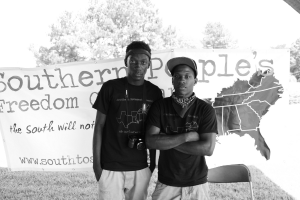 Join the Southern Freedom Movement, see photos from the Assembly, and learn more at www.southtosouth.org
Make your own sticker for the We All Count Campaign at weallcount.tumblr.com – more added every day!
Share the movement on Facebook, Tumblr, Twitter, Instagram, Pinterest – Make it your profile pic! #weallcount #peoples100days
Video, audio, and more pictures from the Assembly on the way!