Save the Date
Criminal Justice Reform Summit
April 3-4, 2020
Columbus GA
Registration opens February 1, 2020
Columbus SPICE Families Receive Chromebooks
The second class of SPICE finished on Wednesday, November 20. Parents Tracy Lampkin, Analiese Pereira and Sheree Smith received Chromebooks for their children at Dorothy Height and Davis elementary schools. In addition, Marquise White, student volunteer tutor from Carver High School received a Chromebook. Ron Pleasant, MCSD Information Technology Chief was present on November 20 to congratulate parents and students. On Monday, November 25, a special community celebration at Golden Corral on Manchester Expressway included community supporters Councilman John House, Carolyn Golden, Melody Santos and Lakesha Stringer. SPICE Coordinator, Tonza Thomas, conducted an orientation session for parents from Brewer, Davis and Martin Luther King Jr. elementary schools who signed up for SPICE winter classes to start in January 2020. See photos of the second fall class activities here.
SARN Mission Statement
SARN develops campaigns and projects in the South to end racial disparities in criminal justice, economic opportunities, education, environment/housing and health care.We're a network of activists who cross the lines of race, gender, class, age and immigration status to challenge divisions in the movement to end white supremacy.
Building a Village
We are building a village to support high academic achievement and positive behavior for all students in Muscogee County, Georgia. We are parents, students, educators, community activists, people in business and people of faith who believe it takes a village to raise a child.
Strategic Priorities
Parent Participation and Support
High Expectations for All Students
Academic and Social Support Services
Early Childhood Learning Opportunities
Teacher Quality, Retention, and Support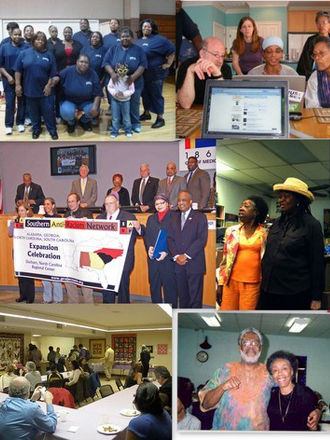 Ending School-to-Prison Pipeline
High suspension rates of African American and disabled students, the education achievement gap and the growing prison population are inextricably linked. Community education about this social concern is necessary to end the school-to-prison pipeline.
Video