UMOJA Unity Talks of the Black Liberation Movement!
Saturday, March 27, 2021
Saturday, February 27, 2021
Saturday, January 30, 2021
Saturday, December 26, 2020
---
Women's International League for Peace & Freedom-US Section, Black Alliance for Peace, & World BEYOND War invite you to view this free webinar on the United States African Command (AFRICOM) and Human Rights in Africa.
The webinar featured first-hand reports from WILPF women describing what effects AFRICOM is having on their respective nations: Joy Onyesoh, the President of WILPF International will speak about Nigeria, Sylvie Ndongmo, the Africa Region representative of WILPF will speak about Cameroon, Marie-Claire Faray, currently living in the UK will speak about the Democratic Republic of the Congo, and Christine Odera, Commonwealth Youth Peace Ambassador Network – Kenya Country Coordinator (CYPAN), will speak about Kenya. Other featured speakers include writer and author Margaret Kimberley, representing the Black Alliance for Peace, and their initiative: Out of Africa: Shut Down AFRICOM, and investigative journalist Amanda Sperber who has reported widely on Somalia.
View the Webinar here.
---
Criminal Justice Reform Summit
---
---
SPICE 2020 Summer Events: July 25 and August 15
In March, Southern Anti-Racism Network reached out to build relationships with additional community partners to address the COVID-19 pandemic impact on the Strong Parental Involvement in Community Education (SPICE) program. Housing Authority of Columbus agreed to identify families with children between the ages of seven years old and ten years old for survey outreach to their parents. We conducted surveys at E.J. Knight and Wilson Homes in anticipation that we would be able to use computer labs in Housing Authority communities for SPICE classes given the library computer lab was closed. Unfortunately, the Housing Authority has not opened up its offices out of an abundance of caution in this spike of coronavirus community spread in Columbus.
Columbus Public Library has proven essential in our efforts to give support to parents in this new situation of using technology for teaching and learning. Alan Harkness offered the resource of the Bookmobile. We conducted two summer events on July 25 at South Columbus United Methodist Church and on August 15 at Wilson Homes.
Parents participating on July 25 were Petra Gertjegerdes with daughter Bailey Myricks at Rigdon Road; Angela Tripp with son Derrick Simmos at Dorothy Height; and Mary Naik with daughter Mariah Naik at Dorothy Height. Jennifer LeDenney, SPICE Coordinator, provided one-on-one instruction in setting up Chromebooks for students and their parents. Three Chromebooks were distributed on July 25.
Parents participating on August 15 at Wilson Homes had the benefit of completing verification week so most parents in attendance had picked up Chromebooks for their children who are students at Fox, Brewer and Downtown elementary schools. We asked parents who expressed interest in helping their neighbors to become parent/organizers. One parent, Lakeisha Ross, received a Chromebook for Co'Marion Ross, student at Fox Elementary. Susana Ortiz, parent of a student at Brewer agreed to be a parent/organizer. Serita Duffie, parent of students at Dorothy Height and Wilson Home resident agreed to be a parent/organizer. Isnaida Russell, parent of student at Fox Elementary and resident of Wilson Homes agreed to be a parent/organizer. Julie Boylan, parent of student at Downtown Elementary also agreed to be a parent/organizer. Five Chromebooks were distributed on August 15.
Jennifer LeDenney made sure all parents receiving Chromebooks were properly set up with Zoom and other applications that might be useful. Thanks to Bookmobile drivers Dan and Dorsey we had electricity and WI-FI to complete the set up. Serita Duffie, parent organizer, has agreed to survey additional parents at Wilson Homes for participation in SPICE. We look forward to building deeper community relationships in Housing Authority communities to close the achievement gap.
---
SARN Mission Statement
SARN develops campaigns and projects in the South to end racial disparities in criminal justice, economic opportunities, education, environment/housing and health care.We're a network of activists who cross the lines of race, gender, class, age and immigration status to challenge divisions in the movement to end white supremacy.
---
Building a Village
We are building a village to support high academic achievement and positive behavior for all students in Muscogee County, Georgia. We are parents, students, educators, community activists, people in business and people of faith who believe it takes a village to raise a child.
Strategic Priorities
Parent Participation and Support
High Expectations for All Students
Academic and Social Support Services
Early Childhood Learning Opportunities
Teacher Quality, Retention, and Support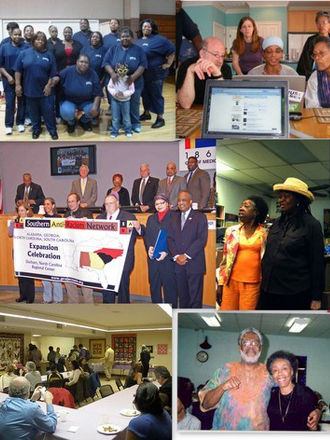 Ending School-to-Prison Pipeline
High suspension rates of African American and disabled students, the education achievement gap and the growing prison population are inextricably linked. Community education about this social concern is necessary to end the school-to-prison pipeline.
---
Video