Activists Building Community Relationships in the South
SOUTHERN ANTI-RACISM NETWORK
20TH ANNIVERSARY CONFERENCE
Press Release (6/12/19): Southern Anti-Racism Network (SARN) is celebrating 20 years of community organizing with a movement building conference on June 28-30, 2019 at the Crowne Plaza Atlanta Airport Hotel., 1325 Virginia Avenue, Atlanta GA 30344.
Please register on-line here,
but all payments must made on-site when you arrive at the conference.
On-site registration opens at 10am on Friday, June 28.
The Women's Liberation Summit (women only) begins at 12pm on Friday, June 28 with lunch and a panel of women from sponsoring organizations. Kelly Wooten, Research Services and Collection Development Librarian at the Sallie Bingham Center for Women's History and Culture will speak about her work and women's collections archived at the Duke University Rubenstein Library in Durham NC. Shanda Neal, Atlanta 9to5, will speak about the longtime commitment of 9to5, National Association of Working Women, to the fight for pay equity. Kathie Sarachild, Redstockings, will speak about the 50-year radical feminist history of Redstockings, founded in 1969. Other sponsors, Project South (Atlanta GA) and Direct Action for Rights and Equality (Providence RI), are invited to speak on the luncheon panel at the Women's Liberation Summit. Theresa El-Amin, SARN founder and regional director, will speak and moderate the panel and discussion. The summit will arrive at agreed upon conclusions on the state of women and our movement for liberation in the areas of pay equity, reproductive rights, family support, sex and gender oppression. If possible, a strategic 5-year outline of goals and objectives will be presented at the conference opening event on Friday, June 28, 7pm-9pm.
The conference theme is "Working for Transformation of Society". Heather Gray, Atlanta radio station WRFG radio show host and longtime social justice activist, will moderate the panel on Friday evening. The Friday evening event is free and open to the public.
On Saturday, June 29, a bus will leave Columbus GA at 10am for the national Education Summit to be held at the conference. Education Summit is co-sponsored by SARN and the Coalition for Public Education based in Brooklyn NY. Dr. Anna-Maria Thomas, 39-year retired educator, will provide the keynote message to open the summit. Shani Robinson, author and teacher fighting charges in the Atlanta Public Schools cheating scandal, will kick on a discussion on attacks on Black educators. A panel of parents from Maryland, Georgia, New York and other states will speak about their challenges in getting support for their children in school. Attendees at the Education Summit will include parents, students, educators, people in business, elected officials. The summit will arrive at agreed upon conclusions on the state of public education in the regions represented. Goals and strategic objectives will be identified for improving outcomes for students in public schools.
Contact: theresa@projectsarn.org or 919-824-0659
---
Mission Statement
SARN develops campaigns and projects in the South to end racial disparities in criminal justice, economic opportunities, education, environment/housing and health care.We're a network of activists who cross the lines of race, gender, class, age and immigration status to challenge divisions in the movement to end white supremacy.
Building a Village
We are building a village to support high academic achievement and positive behavior for all students in Muscogee County, Georgia. We are parents, students, educators, community activists, people in business and people of faith who believe it takes a village to raise a child.
Strategic Priorities
Parent Participation and Support
High Expectations for All Students
Academic and Social Support Services
Early Childhood Learning Opportunities
Teacher Quality, Retention, and Support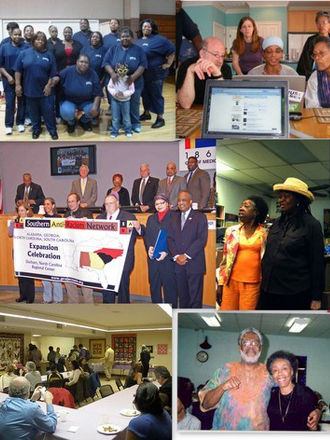 Ending School-to-Prison Pipeline
High suspension rates of African American and disabled students, the education achievement gap and the growing prison population are inextricably linked. Community education about this social concern is necessary to end the school-to-prison pipeline.
Video