Columbus SPICE Has Begun!
After 8 years of sharing the good news of Strong Parental Involvement in Community Education (SPICE) from Durham NC, the Columbus GA community has accepted the SPICE vision of closing the academic achievement gap and the digital divide in the Muscogee County School District (MCSD). A one-year contract for $20,000 was awarded to the Southern Anti-Racism Network (SARN) from the Crime Prevention Department of the Columbus Consolidated Government to start the SPICE program which began on September 9, 2019. The first class ended on October 14 with two parents and four students from two of the lowest-performing elementary schools in the MCSD, JD Davis and Dorothy Heights. Please enjoy photos from the class completed on October 14, 2019.
SARN Mission Statement
SARN develops campaigns and projects in the South to end racial disparities in criminal justice, economic opportunities, education, environment/housing and health care.We're a network of activists who cross the lines of race, gender, class, age and immigration status to challenge divisions in the movement to end white supremacy.
Building a Village
We are building a village to support high academic achievement and positive behavior for all students in Muscogee County, Georgia. We are parents, students, educators, community activists, people in business and people of faith who believe it takes a village to raise a child.
Strategic Priorities
Parent Participation and Support
High Expectations for All Students
Academic and Social Support Services
Early Childhood Learning Opportunities
Teacher Quality, Retention, and Support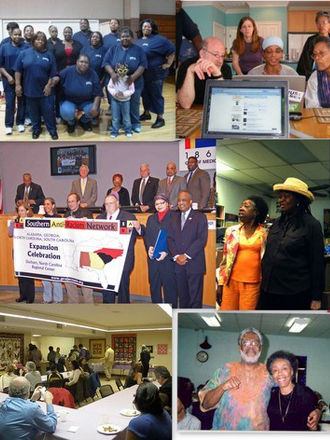 Ending School-to-Prison Pipeline
High suspension rates of African American and disabled students, the education achievement gap and the growing prison population are inextricably linked. Community education about this social concern is necessary to end the school-to-prison pipeline.
Video