First Annual Fannie Lou Hamer Branch
Human Rights Conference
Saturday, December 11, 10AM -2PM Pacific, 1PM – 5PM Eastern
The First Annual Fannie Lou Hamer Branch Human Rights Conference, organized by the Fannie Lou Hamer branch of Women's International League for Peace and Freedom (WILPF US) and sponsored by the Southern Anti Racism Network, was held on Saturday, December 11.
WILPF US awarded a mini grant of $1,500 to the Fannie Lou Hamer branch for this conference.
The conference consisted of an opening plenary, breakout sessions, and discussion. Plenary topics were:
---
SARN Mission Statement
SARN develops campaigns and projects in the South to end racial disparities in criminal justice, economic opportunities, education, environment/housing and health care.We're a network of activists who cross the lines of race, gender, class, age and immigration status to challenge divisions in the movement to end white supremacy.
Building a Village
We are building a village to support high academic achievement and positive behavior for all students in Muscogee County, Georgia. We are parents, students, educators, community activists, people in business and people of faith who believe it takes a village to raise a child.
Strategic Priorities
Parent Participation and Support
High Expectations for All Students
Academic and Social Support Services
Early Childhood Learning Opportunities
Teacher Quality, Retention, and Support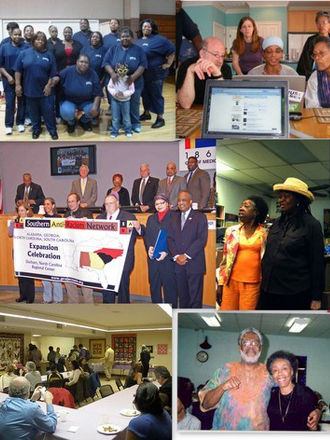 Ending School-to-Prison Pipeline
High suspension rates of African American and disabled students, the education achievement gap and the growing prison population are inextricably linked. Community education about this social concern is necessary to end the school-to-prison pipeline.