REGISTER NOW!
CALL TO SOUTHERN ANTI-RACISM NETWORK
20TH ANNIVERSARY CONFERENCE
JUNE 28-30, 2019
We will gather to reflect on our participation in the movement to end US imperialist war. We will consider this Decade for People of African Descent, January 2015-December 2024. Reparations Now!
Join those of us dedicated to an economy in the hands of the people, a society with quality health care for all, publicly funded education from cradle to grave. We are committed to the fight to end white supremacy, bigotry, patriarchy, sexism and homophobia. Our struggles are connected so we need to be connected.
PRELIMINARY SCHEDULE
June 28- "Our Freedom, Our Work" Women's Liberation Summit (Women Only), 12pm-5pm download poster
June 28- Opening Plenary: "Working for Transformation of Society", 7pm-9pm (Open to the public)
June 29- Ending Imperialist War, 9am-10:15am, Confirmed: Ajamu Baraka, Black Alliance for Peace (BAP)
June 29- Demand for Reparations, 10:30am-12pm, Confirmed: Akinyele Umoja, NAPO
June 29- Education Summit, 12pm-5pm, Journey for Justice Alliance, Coalition for Public Education
June 29- Awards Ceremony and Jazz Concert with Bilal Sunni-Ali, Song of Life Ensemble, 7pm-11pm
June 30- SARN Strategic Planning Session (Invitation Only); Self-Organized Meetings, 9am-12pm
REGISTRATION
Register now Full weekend including Awards Dinner and Jazz Concert – $150
Location- Crowne Plaza-Atlanta Airport, Room Rate $109 (Includes Airport Shuttle)
Contact: Theresa El-Amin, SARN Regional Director, 919.824.0659
---
Mission Statement
SARN develops campaigns and projects in the South to end racial disparities in criminal justice, economic opportunities, education, environment/housing and health care.We're a network of activists who cross the lines of race, gender, class, age and immigration status to challenge divisions in the movement to end white supremacy.
Building a Village
We are building a village to support high academic achievement and positive behavior for all students in Muscogee County, Georgia. We are parents, students, educators, community activists, people in business and people of faith who believe it takes a village to raise a child.
Strategic Priorities
Parent Participation and Support
High Expectations for All Students
Academic and Social Support Services
Early Childhood Learning Opportunities
Teacher Quality, Retention, and Support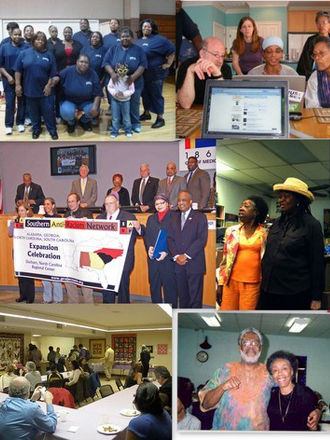 Ending School-to-Prison Pipeline
High suspension rates of African American and disabled students, the education achievement gap and the growing prison population are inextricably linked. Community education about this social concern is necessary to end the school-to-prison pipeline.
Video