Remembering C. T. Vivian and John Lewis- July 2020 with Adrian Bernal and Theresa El-Amin
---
---
Criminal Justice Reform Summit, October 16-17
Due to COVID-19 national emergency, the new date for the Criminal Justice Reform Summit is October 16-17, 2020. We will continue to take registrations through September 30, 2020. For refunds or other questions, please contact Theresa El-Amin, theresa@projectsarn.org or 919-824-0659
Register Now! Registration $100 until September Deadline
---
SPICE Families Graduate on February 12, 2020
On Wednesday, February 12, 6pm, Columbus Public Library, Synovus Room A, four families graduated from the third family literacy class of Strong Parental Involvement in Community Education (SPICE).
Parent-child teams were: Sarah and Princessnaudiarose Bady; Lidia Chaj and Allyson Alvarez; Aisha Johnson and Marcellus Giles; and Susana Ortiz and Dairy Perez-Ortiz. Students attend Thomas Brewer and Martin Luther King Jr.
At the graduation celebration students read from their "All About Me" journals created during the 5-week class sponsored by the Southern Anti-Racism Network (SARN). Erika Lynn Muhammad and Jennifer LeDenney worked with parents to teach computer skills. In addition, Mrs.Muhammad prepared meals for each class.
Sarah Bady, parent, agreed to join the teaching team for the next class which begins on Monday, February 24. Jennifer LeDenney will serve as SPICE Coordinator for the remaining 3 classes which end on June 11, 2020.
A grant of $20,000 from the Crime Prevention Department of the Columbus Consolidated Government made a dream come true says, Theresa El-Amin, SARN Regional Director and founder of SPICE.
"After 7 years of looking for strategic collaborations to close the academic achievement gap, the support of Muscogee County School District, Columbus Public Library and Columbus Consolidated Government have put us on the road to education equity." says El-Amin.
Photos of the graduation
---
SARN Mission Statement
SARN develops campaigns and projects in the South to end racial disparities in criminal justice, economic opportunities, education, environment/housing and health care.We're a network of activists who cross the lines of race, gender, class, age and immigration status to challenge divisions in the movement to end white supremacy.
---
Building a Village
We are building a village to support high academic achievement and positive behavior for all students in Muscogee County, Georgia. We are parents, students, educators, community activists, people in business and people of faith who believe it takes a village to raise a child.
Strategic Priorities
Parent Participation and Support
High Expectations for All Students
Academic and Social Support Services
Early Childhood Learning Opportunities
Teacher Quality, Retention, and Support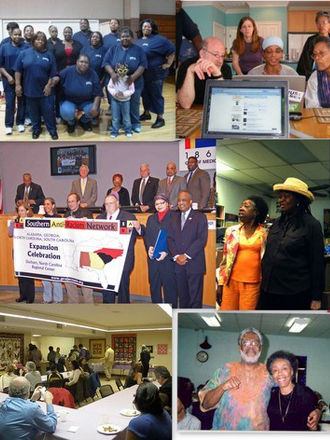 Ending School-to-Prison Pipeline
High suspension rates of African American and disabled students, the education achievement gap and the growing prison population are inextricably linked. Community education about this social concern is necessary to end the school-to-prison pipeline.
---
Video